Debut Novel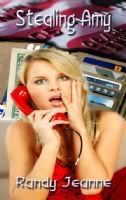 Check out one of my critique partners debut novel published by Triskelion. It's a fantastic chick lit. Randy Jeanne is very talented and has the right voice for this genre. The blurb is below.

Amy Harrington can't believe her identity's been stolen-after all, who'd want such a pathetic life? But when repercussions threaten her mother's social standing (God forbid!), Amy goes after the thief herself. The chase leads her to Mexico where she snags a job with Nick Cavenaugh--a straight-arrow kinda guy who's doing some life -reclaiming of his own.

Amy neglects to come clean about her real name, who she's after, or why she's really in Mexico because...What Nick doesn't know can't hurt him, can it? Stranded in a steamy jungle, she's about to find out. Amy may be after the woman who stole her life, but will Nick end up stealing Amy's heart?

Click

HERE

to read more about Amy's adventures.
posted by Liz @ 7:44 AM


About Me
Home: Southern State, United States
About Me: I'm shy...seriously!
See my complete profile
What I'm Reading
Previous Post
Archives
Links
Template by